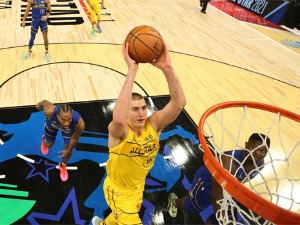 Staff LeBron dominant, Janis MVP, Jokić knocked and chattered, Kari and Lillard scored from half the sphere
Even before the first second of this year's "All-Star" match, one got the impression that LeBron James chose a better, higher quality and more fun team for the class.
That was the case on the floor of the "State Farm Arena" in Atlanta, as the "King's" team was better in every quarter and thus donated significant funds for humanitarian purposes ($ 1,250,000).
The "All-Star" game was played in the same format this year as well, three separate quarters and then the fourth in which time is not measured, but played until the team that was in the lead after three sections, scored another 24 points, in the sign of Kobi Brianta.
In addition to super-attractive dunks, passes, fast pace and traditionally weak defense, this year saw a real burst of clashes between players from both teams and within the team of LeBron James.
The show was taken over by Steph Curry and Damian Lillard, who hit a huge number of threes from as many as half of the field.
Nikola Jokić spent a little more than 19 minutes on the floor, for which he scored six points, seven rebounds and five assists.
The "Joker" was visibly having fun in the match of all the stars, knocking, laying, assisting, and even dancing.
The award for the most useful player of the match, which is named "Kobe Bryant" from this season, was taken by Janis Adetokumbo, who finished the match with 35 points and seven rebounds. Janis had no misses from the game (16/16, including two three-pointers from the board).
Besides the Greeks, the most efficient in the winning team were Lillard with 32, Curry with 28 and Brown with 22 points.
In the team of Kevin Durant, who could not play due to injury, Bill stood out with 26, Irving with 24 and Tatum and Harden with 21 points each.