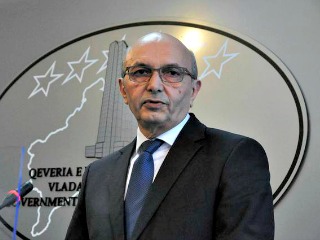 Germany's Merkel to Meet Kosovo PM Forward of Serbia Go to
Kosovo Prime Minister Isa Mustafa. | Photo by Beta
Mustafa will meet Merkel in Berlin at the end of this month – the first official meeting at this level between the two.
Sources within the Kosovo government have confirmed to Balkan Insight that Mustafa will travel to Berlin and that the two will discuss the ongoing dialogue between Kosovo and Serbia in Brussels, as well as bilateral relations between Kosovo and Germany, just before Merkel is expected to travel to Belgrade Beginning of July.
Mustafa's Democratic League of Kosovo, a center-right party, has a close relationship with Merkel's Christian Democratic Union. Both are part of the European People's Party.
Political scientist Fisnik Korenica says Germany's role in the Balkans, particularly with regard to Kosovo, is increasing.
"The aim of this meeting is to give relations between Kosovo and Serbia a more dynamic direction, which Merkel would rather do under her wing than through her [EU High Representative Frederica] Mogherini. "
Merkel is currently leading the Berlin Process, an initiative that began with the Conference of the Western Balkans in Berlin in 2014 and aims to strengthen cooperation between countries in this region.
"The Berlin Process is an initiative by Merkel with which she wants to get the region out of ethnic tensions by giving the cooperation an economic perspective – in order to create a" soft cooperation "under the patronage of Berlin," continued Korenica.
"Through this process Merkel will become the leading EU politician in the Western Balkans."
In March, Pristina hosted one of the conferences on infrastructure investment in the Balkans attended by Serbian Foreign Minister Ivica Dacic – the first visit by a Serbian minister since the 1999 conflict.
Merkel is expected to discuss the implementation of the Brussels Agreement with Serbian Prime Minister Aleksandar Vucic during her visit in early July.
The Kosovar government has a strong pro-EU approach and often reaffirms its commitment to EU integration. Kosovo is currently on the way to signing a Stabilization and Association Agreement – a precursor to the accession process for the Western Balkans.
Kosovo declared independence from Serbia in 2008 – which Belgrade does not recognize – and has so far been recognized by 23 of 28 EU member states.