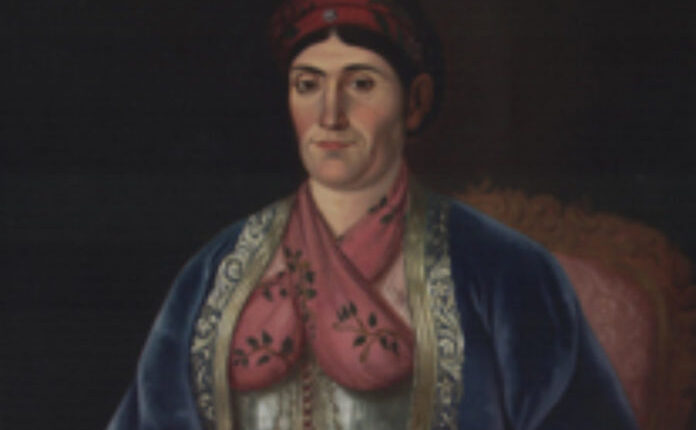 Well-known Serbian ladies (1): Ljubica, nice girl
wikipedia.org
Princess Ljubica
Stories about the lives of the most famous Serbian women of the 19th and the first half of the 20th century, from Princess Ljubica Obrenović to Milunka Savić and Marija Maga Magazinović, are a testimony to a time and often tragic fate of many mothers, wives and daughters. At the time of the creation of the new Serbian state, the price of the social and spiritual stratification of society, the painstaking and slow emergence of the Serbian intelligentsia, was paid the most by women. That is why it was very difficult for a few educated ladies, such as Katarina Ivanović, Milica Stojadinović Srpkinja, Mina Karadžić or Nadežda Petrović, to take and achieve the place that belonged to them in terms of value. Their destinies were presented by the historian Ljiljana Cubric in the book "Memorial – famous Serbian women".
The first princess of renewed Serbia, Ljubica Obrenović, was remembered for her kindness and loyalty to the Serbian family. On her deathbed, she told her son Mihail: "Son, your mother leaves you as a testament to your people who have proved that they love you. Love your son, and you your people more than yourself… "
Ljubica was born in 1785 in the mining village of Srezojevci in the old, respectable Serbian family of Vukomanović. According to her mother, a few days after Ljubica's birth, a Turk came to Vukomanović's house to stay. Hearing the child cry, he asked whose it was. After the mother answered that it was hers, the Turk said that he had to convert to Islam. And when he found out that she was a girl and that she was born with two black moles on her shoulders, he said: "Take good care of her; she will someday know about the chief of the country. There is no other, he has to convert to Islam… "
The same night, the frightened mother took the child to the ninth house so that she would not be forcibly converted to Islam. Ljubica spent her childhood and early youth in her parents' house, helping her mother with all household chores.
A loyal wife
Milos Obrenovic said that when he first saw Ljubica washing clothes with her mother on the river Dicina, "her eyes remained". Ljubica married the later prince Miloš in 1806, and Karađorđe was his godfather. She gave birth to eight children, four of whom died early. Daughters Petrija, Savka and sons Milan and Mihailo grew up with their parents.
She did all the work that women do, weaving, doing laundry, kneading proju and bread. Because of her accessibility and simple way of life, because she was a popular woman, especially appreciated and respected by women, they called her "Ljubica the Great Lady".
She dedicated most of her life to raising, educating and educating children. Although uneducated, she knew very well how important it was to be educated, so she tried to give her children the best education.
Ljubica's life with Milos, a man of difficult and supernatural nature, conspicuously in favor of other women, was difficult. Honest, honest, noble and open, Ljubica was a loyal wife. However, indignant at Miloš because of the numerous adventures he did not hide, she inadvertently helped the Obrenovićs to be removed from Serbia for a while. Wanting to see him somewhat limited in power, in the hope that it would have a positive impact on his private life, the princess helped his political opponents, which she regretted before her death. After Mihail's departure from Serbia, Ljubica also had to leave her hometown. The longing for Serbia caused her mental pain, which undoubtedly contributed a lot to her illness and sudden death in 1843 in Novi Sad.
Two small guns
Contemporaries noticed that Ljubica was of medium height, beautiful, hardworking and good to everyone. She kindly won over the environment. She spoke beautifully, easily and convincingly. Very pious, she always tried to do some godly deed and help the poor. She was able when she needed to talk to the people. Along with her husband, Ljubica is in the 19th century. was the most famous and most popular person in the Serbian people. A foreigner who visited Serbia in the 1930s wrote that "Serbs appreciate their princess well, and if her husband accidentally died, it is believed that public opinion would hand over the viceroyalty to Mrs. Ljubica."
The princess dressed simply. She wore clothes like other richer women, and during the difficult and painful days during the First and Second Serbian Uprising she had two small pistols on her belt. Later, she wore Serbian civilian clothes. She did not like luxury, nor did she wear much jewelry. After the death of her brother Jova, in the battle near Požarevac in 1815, she never put on earrings again. She grieved a lot for her brother. And after the death of her older son Milan, in June 1839, she wore black for a long time.
In difficult times, she was able to show personal courage and cordiality whenever it was needed. She showed that for the first time when, after the collapse of the First Serbian Uprising, Miloš wanted to send her with her children and her mother to Montenegro or Germany. She vigorously refused, saying: "I will not leave my homeland alive, and dogs can eat me dead…"
She helped Vuk
Ljubica had good relations with prominent personalities of Serbia at that time. Of the politicians, she respected Tomo Vučić Perišić the most, because of his courage. She was in a cordial relationship with Vuk Karadzic, when she greatly appreciated and loved her. Ljubica often influenced her husband and later her son to help Vuk and his work financially, and she herself gave him money. Ljubica helped not only people with feathers, but also other needy people. Thus, she helped Ilija, the son of the famous hero of the First Serbian Uprising, Vasa Čarapić, when he was left without means of subsistence due to Miloš's disfavor, until his death.
She killed her mistress
Milos' first known love affair was with Petrija, a refugee from Sarajevo. Suspecting that she was something more than a servant to the prince, Ljubica, killing her with Miloš's gun, said: "The gun is Milošev's, but it is Ljubičina's hand, let's see if she will lie!" Because of this act, the princess bitterly repented before her death: "I have many sins and the merciful God will forgive them, but I am afraid that I killed that woman with my own hand, I am afraid!" Where does my female mind take me! "
Tomorrow – Famous Serbian Women (2): Katarina, the first painter