Suspended Cuban lady takes Serbian passport, however chooses Turkey and Erdogan (PHOTO)
Youtube/PowerVolleyball
Melisa vargas
Although the initial information was that the Cuban volleyball player Melissa Vargas would play for the Serbian national team, she still decided for Turkey.
At the end of last year, information appeared in the media that Vargasova, who made her debut for Cuba at the age of only 13, could become a member of the Serbian national team.
The girl, born in 1999, moved to Fenerbahce, Turkey, in 2018, where she still performs today.
The information that she wants to wear the Serbian jersey became important when it was taken into account that her coach in Fenerbahce was the Serbian coach Zoran Terzić, and her teammates were the successful national team players Bianka Buša and Brankica Mihajlović.
Terzic then confirmed that Vargas had become a Serb a year earlier, as well as that all the necessary paperwork had been submitted so that she could wear the jersey of our country.
However, during the first half of 2021, Melissa Vargas made a decision that will mark her future, and it does not concern Serbia, since she chose to play for Turkey. The new Turk was officially introduced by the President of the state, Recep Tayyip Erdogan, and the volleyball player borrowed the number five jersey.
Big win for our Women's Volleyball National Team.
I hope he plays for many years without injury. # MelissaVargas pic.twitter.com/bIlOtPCnAB
– Metin Paçarız (@MetinPacar) April 10, 2021
The infamous denouement with her homeland came about because the Volleyball Federation of Cuba suspended her in 2017 because she violated very strange and strict rules there. Namely, Cuban volleyball players cannot play for the national team of that country if they decide to continue their club career in another country.
Since the then 15-year-old Vargas decided to move to Prostejov in the Czech Republic in 2015, a one-year suspension in 2017 followed, which was subsequently confirmed and extended for another four years.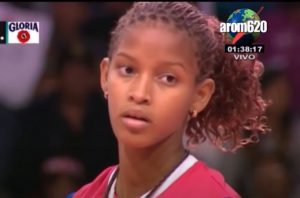 This was followed by a shoulder injury that required surgery at the end of 2016, and was treated at home at the request of the parents, although Cuban rules stipulate that young players must be accommodated in the National Volleyball School.
Melissa plays as a corrector and receiver, she is 193 centimeters tall and represents a great hope of world volleyball, which was of interest to several national teams.