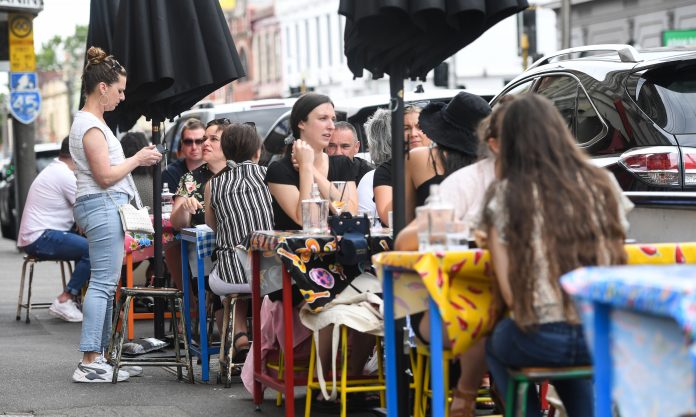 Monetary help of 143 million
EPA-EFE / ERIK ANDERSON
The state has not forgotten the caterers either
Victoria's Minister of Employment, Innovation, Trade and Tourism, Martin Pakula, announced a new government package of 143 million dollars for businesses that are most affected by the state's latest emergency isolation due to the crown.
To remind, on February 12, the Victoria government imposed an urgent five-day closure of the state in response to the appearance of a local transmission of the virus, which began with one patient at the Holiday Inn Hotel in Melbourne.
Exactly that weekend, the owners of many businesses, especially in catering and retail, have been waiting for a long time.
– I don't think we have had a better weekend for years. Valentine's Day fell on a Sunday, we had a large number of visitors announced at horse races at the Victorian Racing Club in Flemington, then the Australian Open is held for the first time in February, and of course the Lunar New Year is here – said the CEO of Victorian Economic and Industrial chambers of Paul Gera.
The new aid package envisages that bars and pubs will receive $ 3,000 each, and the citizens of Victoria will again be offered travel vouchers.
Minister Pakula said that the organizers of various events, the art sector, tourism and catering, as well as certain traders, will also receive help. A total of 50,000 companies, including independent traders, will receive some form of assistance.
According to him, 10,000 vouchers will be offered for regional destinations, while under the same scheme, 40,000 vouchers worth $ 200 each will be available for travel within Melbourne.
With previously issued vouchers, that would be a total of 200,000 issued to help tourism in regional Victoria and Melbourne.
The executive director of the Chamber of Commerce and Industry, Paul Gera, welcomed this help, but he asked the government in the future for reactions that will give business owners greater security in their business.
Licensed catering establishments will automatically receive a payment of $ 3,000 in the coming days, while eligible businesses in the hospitality, food wholesale, tourism, event management, and selected retail industries will be required to apply for a $ 2,000 grant through the Business Expenses Assistance Program. Costs Assistance Program).
Accommodation owners who have had less than 10 canceled rooms and apartments are invited to apply for a $ 2,250 grant, while those with more than 10 canceled accommodations are eligible for a $ 4,500 payment.
Regarding this decision on financial assistance, Minister Pakula said that the government worked closely with business groups, in order to make the right decision. He also mentioned that if there is a need in the future, and he sincerely hopes that it will not be, that decisions on financial assistance will also be made based on the needs of vulnerable companies.
A loss of a billion dollars
A week ago, the executive director of the Victorian Chamber, Paul Gera, estimated that the financial impact of the five-day lock of Victoria will be over 500 million dollars, and most likely at the level of one billion dollars. Chinatown business spokesman Christopher Nga said that the Lunar New Year is the busiest time of the year. According to him, the sudden closure of Victoria led to the permanent closure of some Chinese restaurants.