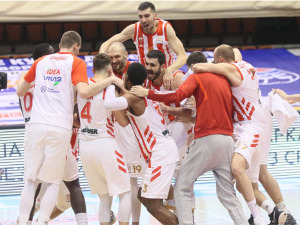 RTS :: Zvezda received the Korac Cup
The red star is in a very interesting finale managed to defeat the young and talented team of Mega after the turnaround.
Mega entered the match very well and gained a double-digit advantage of 12: 2 very early.
However, as time passed, Zvezda played better and caught the result.
Mega's advantage after the first quarter was two points, and after the result seesaw in the second quarter and the good end of the same, the difference was four points in favor of Mega.
We were waiting for Zvezda's answer in the second half, and that is exactly what happened.
Dejan Radonjić's team played completely differently in the other 20 minutes. Special emphasis and improvement was seen in the defense phase, which is sufficiently evidenced by the fact that Mega scored 40 points in the first half, and only 20 points in the second half.
In the third quarter, the red and whites made several series, of which the 7: 0 stands out the most, with which they made a turnaround and took the lead.
In addition to a much better defense, Zvezda had better jump control for the class during the entire second half, but also in the match itself.
She often managed to gain second, third and even fourth possession with offensive jumps, and then crowned the sacrifice with points. Dejan Radonjić's team had 22 points after the offensive jump, compared to only two goals by Mega from the same segment of the game.
Zvezda entered the last quarter with a five-point advantage, and in the finish, Dejan Davidovac took over the end of the game. Mega struggled in the attack, and the red and whites knew how to use the opponent's idle move.
With a series of points on one side, and then a good team defense on the other side, Zvezda gains the biggest advantage in the match in the very finish and then brings the match to an end without major problems.
Marko Jagodić-Kuridža was declared the most useful player in the final, who filled all the statistical columns, defended several players, and was active on every ball and possession.
Kuridza finished the match with eight points, 11 rebounds, three assists and two stolen balls.
Zvezda was led by Davidovac and OBrajant with 14 points each, while Lazić scored 10 points.
In the ranks of Mega, Petrušev stood out with 21 and Simonović with 12 points.
The Red Star won the "Žućko's Left" trophy for the tenth time in the history of the club, and for the first time in four years.