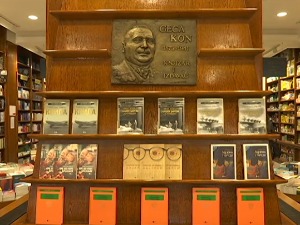 "Geca Kon" is working once more, 120 years of custom proceed
The history of 120 years continues. The objects that belonged to the founder of the "Publishing Bookstore", Geci Kon, now remind us of its beginning.
It was a meeting place for the most important intellectuals in the capital, Nusic, Prodanovic, Slobodan Jovanovic, Crnjanski, and books published by some large libraries. The war ended the lives of publishers and bookstores. The spirit, books and great writers were brought back by "Prosveta".
"About 40 years ago, when I entered literature in the Belgrade bazaar, the following rule applied: Consider that you became a writer the day your story was published in 'Politika' and when the book appeared in the window of the bookstore that was in fact "Geca Kon ', and again after some time it became the bookstore' Geca Kon '", states Svetislav Basara, writer and editor.
In the nineties, when the long agony of "Prosveta" began, the bookstore also collapsed. The renovation started with the signing of an agreement on business and technical cooperation with the "Official Gazette".
"We have taken the responsibility to renovate it, to restore it to its old glory, to be a meeting place for writers again. This is the oldest Serbian bookstore, we know that, but it seems to me that at this moment it is the largest Serbian bookstore," said Jelena Trivan. messenger ".
Now, more than 40,000 books will be on these shelves, which have been restored to their original appearance. It is especially interesting that the bookstores will take them from the highest ranks with the help of these ladders used by Geca Kon.
This will again be a meeting place for writers and readers, young artists.
"In that sense, and as a can opener, I declare the bookstore open," Basara said.