'I am glad I got here to Serbia!'
THE MEETING OF VUCIC AND MERKEL IS OVER! President of Serbia: 'We discussed all important topics!' German Chancellor: 'I'm glad I came to Serbia!'
Today, the President of Serbia, Aleksandar Vučić, met with German Chancellor Angela Merkel, who arrived on a two-day visit to our country.
Photo:pink
After the meeting, the President of Serbia, Aleksandar Vučić, said that the visit of German Chancellor Angela Merkel was a great part for the entire country. Vučić also said that they had specific talks that are very important for Serbia, but also for the region.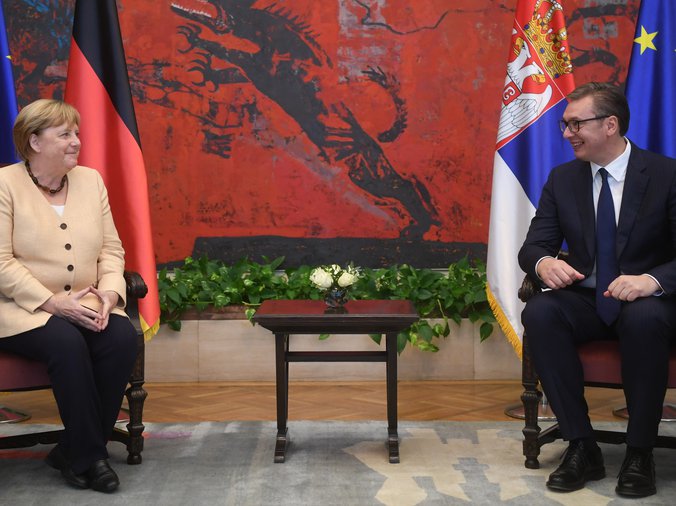 I would like to express my sincere gratitude to the German Chancellor for being here today. Personally, I am proud that after many years of cooperation, I have the opportunity to be one of the hosts and to welcome the German Chancellor at the end of her term. With us, gratitude does not last short, and when she is not the chancellor, we will say the same. And you will always be a dear guest in Serbia. We discussed all important topics for Serbia and the region. We also discussed the results of the Berlin Process, and these days we will have the opportunity to see what the concrete legacy of Angela Merkel is – said Vučić.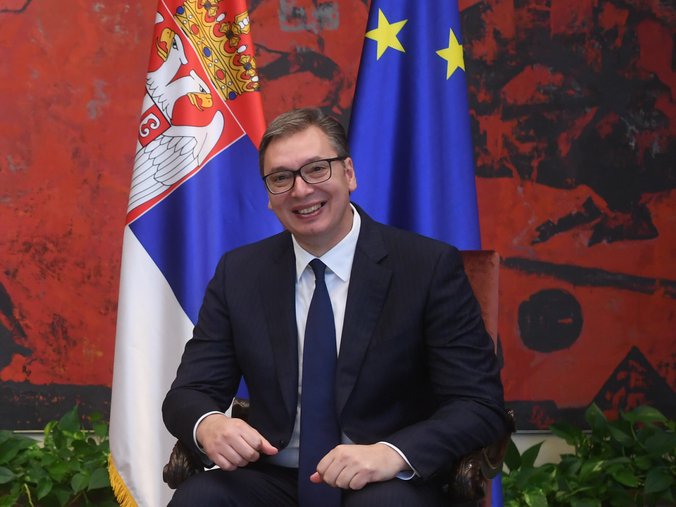 I would not need to say so many nice words about the chancellor because, people will say, she is leaving. We owe great gratitude to Germany and Chancellor Merkel for our economic development – Vucic added.
He pointed out that Angela Merkel will present the Open Balkans project, from which all countries in the region will benefit.
I don't need to say such nice words to the chancellor, since many would say that she is leaving office, but I honestly think so. Today, 72,000 people work in German companies. Germany is our largest trading partner. We have increased the foreign trade exchange with Germany three times – said Vučić.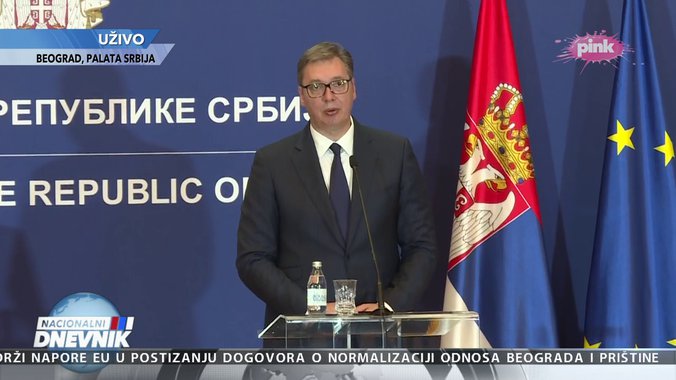 Vučić said that Germany's support for education in Serbia is also important, primarily with the introduction of dual education, which will soon be implemented at the faculties as well.
We also talked about dialogue with Pristina, and we agree that a compromise solution and peace is the only solution, and the path to the future. We also discussed the rule of law, and I submitted a new report on everything that the Government of Serbia has done on this issue. Although we know that we still have a lot to do on that issue – said the President of Serbia.
The president says agreements on memorials and defense have been signed, and agreements on culture, as well as on strategic co-operation with the German government on climate change, will be ratified soon.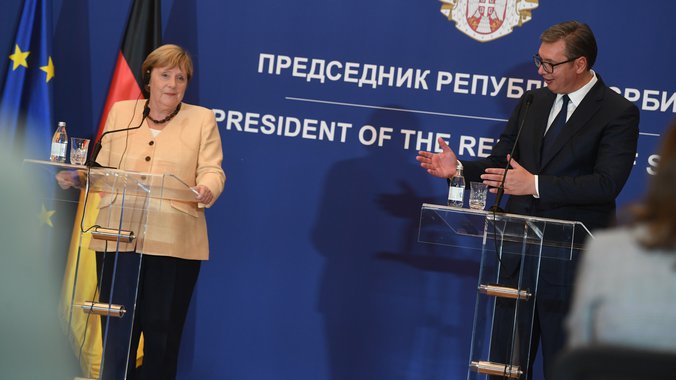 For today, I practiced saying something in not very good German, in honor of the chancellor, but I am nervous and I would not make a mistake, so that half of Europe laughs at me, I will do it during dinner. I learned a lot from Mrs. Merkel, and I want her to feel at home in Serbia – said Vučić.
At the very beginning of her presentation, Angela Merkel said that she was glad to come to Serbia. She added that she met the President of Serbia as a person who does not make false promises.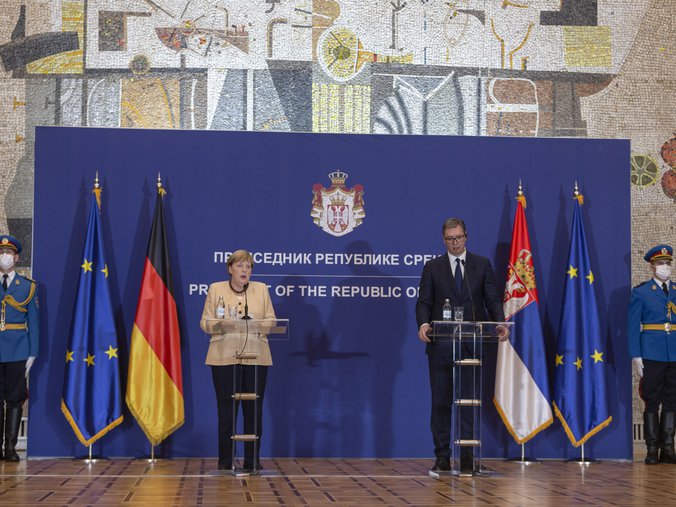 I am glad that I came to Serbia. Our countries are closely connected. Serbia still has a long way to go, but we have agreed to sign a series of agreements between the governments of the two countries, especially in the field of education and climate change. We talked about a number of different topics, and I believe that honesty in our conversations, but also the ability to listen to the other side, is what distinguishes the relations between Vučić and me. I know him as a man who does not make false promises. Thank you for your hospitality – said Merkel.
Angela Merkel stated that a relationship of trust between the two countries has been built through cooperation with President Vučić.
I saw that we had German-Serbian relations since ancient times. We also have a year of attacks on Yugoslavia, so I am pleased to be able to announce the amount of 500,000 euros for reconstruction – said Merkel.
While answering journalists' questions, the German Chancellor confirmed that the region's place is in the European Union, while President Vučić said that the German Chancellor's legacy is absolutely positive.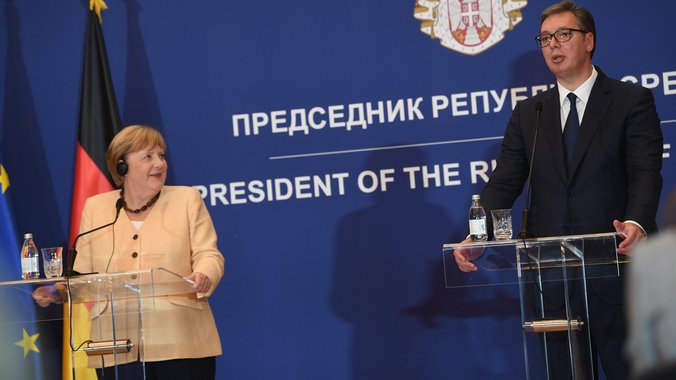 Was the region safer when Angela Merkel was in power. Yes, she is the leader of Europe, and she could always pick up the phone and invite any president from the region. That is why peace was kept, that is why the region prospered. We have had peace all this time. We went through the most turbulent period of migration, the crown, the severe economic crisis, and we overcame everything with the help of Angela Merkel. I think that it is an exceptional heritage, and since each of us in some years starts thinking about what he leaves to future generations, I think that Mrs. Merkel has something to be proud of – Vučić pointed out.
Vučić then spoke about the recognition of the so-called Kosovo as a condition for EU accession, and said a compromise solution is needed.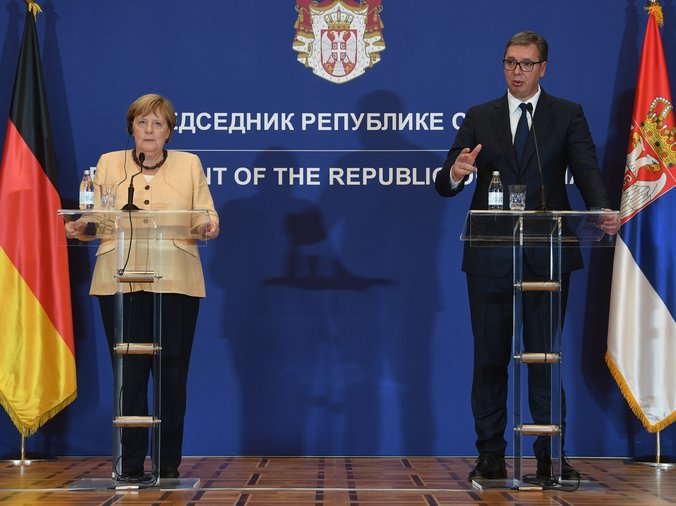 You will never hear me deny knowledge of what the conditions are for joining the EU. We are always ready to talk with Pristina about all possible compromise solutions, to agree. But if the question is whether we are aware that we will not be a member of the EU before solving this problem, we are absolutely aware, and I have talked about it with the Chancellor countless times, both when we agreed and when we did not agree. I am against the frozen conflict, that is not the solution, and I think it is good for this generation to solve it. That must be a compromise, and not a devastating solution for Serbia – said Vučić.
Let us remind you, Angela Merkel arrived today at around 4 pm for a one-day official visit to Serbia. In addition to the "face to face" meeting with Vučić, the President of Serbia and the German Chancellor will also talk during dinner.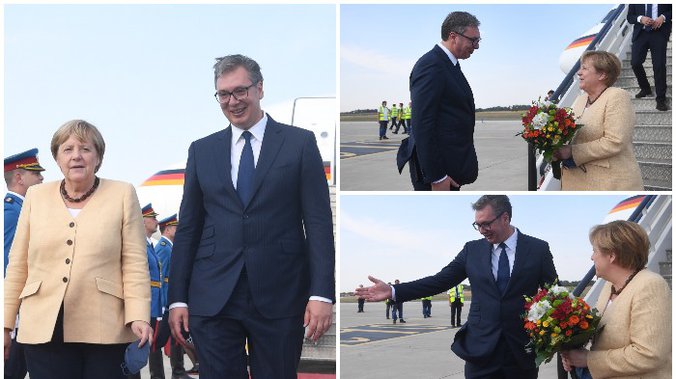 According to the announcements from Berlin, during his visit to Belgrade, Merkel will also meet with the representatives of the civil society of all six economies of the Western Balkans. As part of a farewell visit to the Western Balkans, Angela Merkel from Belgrade is traveling to Tirana.
Source:
pink.rs